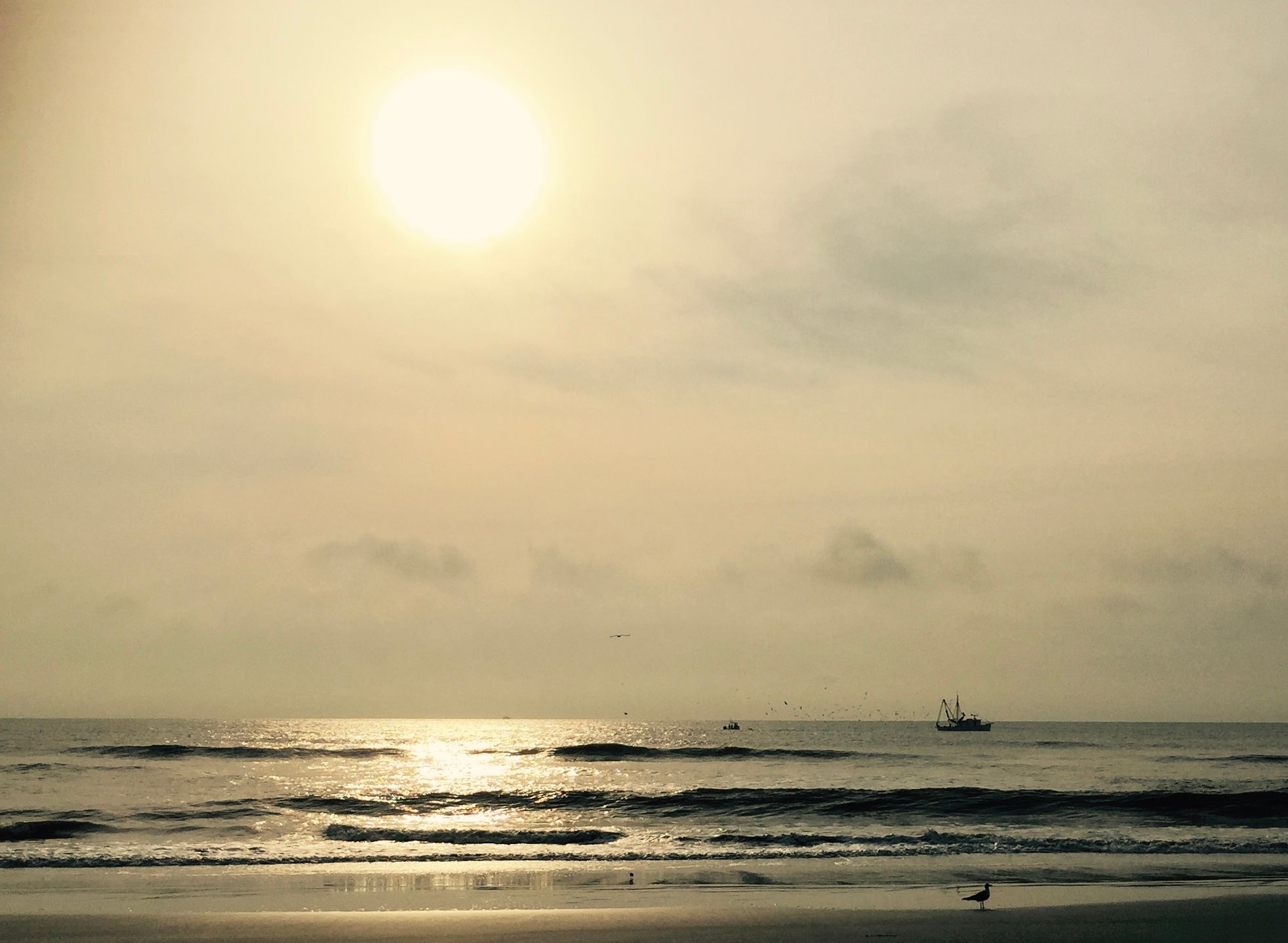 We went to the beach this morning for sunrise and I spent some time walking with Hadassah and praying as Jordan had to go back to the car to charge the Bluetooth speaker. 
I was lifting up this weekends meetings and talking with the Lord on the topic of governing creation. Reflecting on times I have walked with Him and been a part of seeing His plans outworked. 
This morning, He showed me that as I was walking in His government of Peace /Shalom right here right now, it was going to have an affect.
"Ok Lord, open my eyes to see" I prayed.
I saw that the beach began to respond just to the covering of my spirit in Peace. All was as it should be. Waves of His presence were pouring out of me and even the waves in the ocean began to come in in even sets, aligning with the rhythms of heaven.
I saw a fishing boat a distance away. As it made its way north up the coast I felt the Holy Spirit prayng through my spirit, hovering over the boat, calling the fish to the boat. It was to be a good day on that boat for the fisherman. The seagulls and pelicans began to encircle the boat in a fishing frenzy. The boat continued with the seagull entourage. 
Jordan then came back from the car, swam and we sat for a while worshipping and chatting. 
Much to Hadassah's delight, a single sea gull came up to me and just waited patiently. So I did what I normally do which is, bless the animal in the name of YHVH, call it into it's perfect design and purpose and added that he looked very handsome today. (He seemed to especially like  the compliment at the end) and preened his neck turning to the other side so I could see the other side too. 
Jordan and I then went into the courts of heaven and began to pray about some stuff. 
The Spirit said "see I have brought you 150 seagulls" 
You might think this is a little strange, and it is.  However, seagulls are a symbol of the angelic to us and I'll explain why. A few days ago, Jordan was waiting for me outside Walmart. I was getting some things and discerned witch craft so texted him outside to be praying- he said that while I was in there he saw in the natural what was happening in the Spirit. Crows (symbolic of the dark forces) were hanging around squarking aggressively, but as he was praying, seagulls were dive bombing and chasing them off. 
Now, back to the beach we had begun to pray asking the Father to release the angelic on our behalf for what He has lined up for us. 
I opened my eyes and all these seagulls were suddenly there gathered around us blinking back like a Sunday morning congregation. To the left and right of us up the beach there were no seagulls. Just in a semi circle around us. 
Jordan was on a roll praying, so I decided to count the seagulls. There were indeed as God had said, 150!  So I welcomed and blessed them. Thanking Abba for them and  what they represent. Jordan sung the Hebrew blessing over them and they waited patiently til we had finished praying, before taking off in flight all at the same time. a heavenly moment. (There was no poop either thankfully! ) 
As we packed our things to leave, I saw the fishing boat heading off into the distance.  The Lord showed me that it is also a call for us as sons to be fishers of men, to pray for His fish to come into the boat (ark of His Presence)and find safety.  Interestingly in the days of Noah, (time when God was judging the earth), the earth was under water for 150 days and I believe the 150 seagulls that He sent us, were symbolic of the harvesting angels being sent out. 
There are many numerical rabbit trails that we could go on with the 150, but in any case, it was encouraging how God had confirmed His word to me about stewarding creation and the impact that it has. No matter how small or insignificant we might think it is, just simple acts of obedience as we walk with Him, carry weight in His kingdom, more than we know. 
Hallelujah