12 December 2018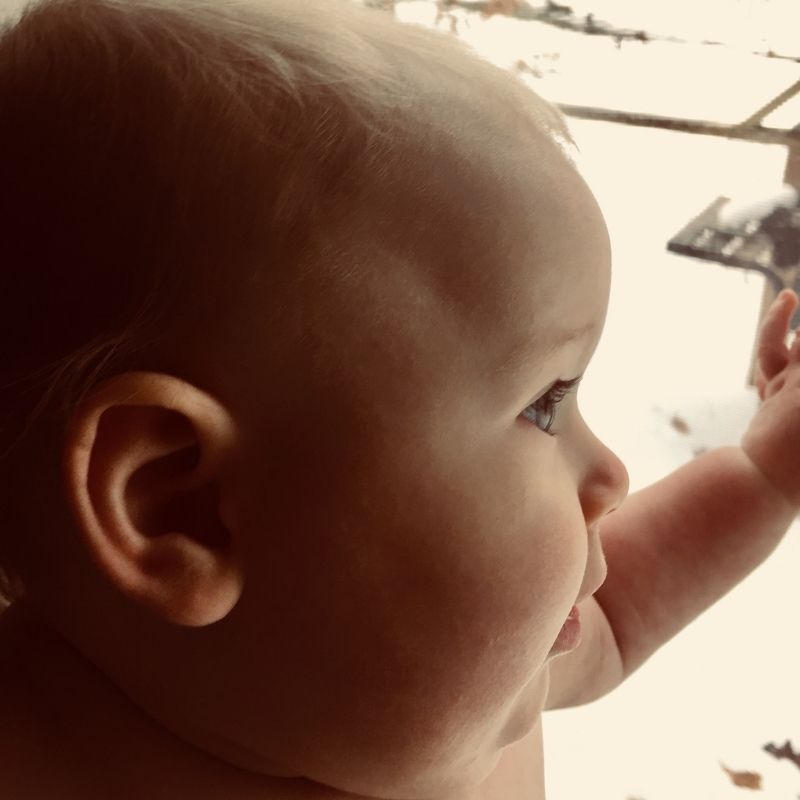 Do you remember the first time that you saw snow? 
We arrived back in North Carolina at 10.30pm last night, having travelled approximately 20 hours back to the States, Hadassah was fast asleep when we arrived. It had been an icy drive back from the airport. We could not make it through the snow drift into the laneway and across the stream like we usually do. Jordan's 1998 GMC Jimmy has done over 225k miles and I don't think it would have managed an extra one, ploughing through the snow drift and ice, had we attempted it. So, we parked up and labored with our suitcases, baby bags etc taking the footbridge across the stream and up our steep hill through more than a foot of snow. 
We awoke this morning bleary eyed and I carried Hadassah to the window in my arms telling her that today she would see snow for the first time. 
Her little face when we looked out at the dazzling white vista was a priceless moment. Her innocent expression of wonder and amazement melted my heart and lead me to take the photo above. 
In her sweet expression, the Lord reminded me of His gift of Righteousness, of the fresh wonder and amazement when we come into the knowledge and acceptance of this priceless gift through repentance. The gift that gives us life through the shed blood of Yeshua. 
This is a major key to witnessing and walking in the realms of heaven. 
To traverse the highway of Holiness and to living and abiding in your first love of The One that is One (Echad), the One that is Love! 
His love is so perfect. He encompasses all. Just in the reading of Psalm 148 I was caught up…and as with king David, I felt God's praises like a pressure washer, erupting from my heart. 
1Praise Lord Jehovah from Heaven; praise him in high places! 
2Praise him, all his angels! Praise him all his hosts! 
3Praise him, Sun and Moon! Praise him, all stars and lights! 
4Praise him, Heaven of Heavens; The waters higher than the Heavens! 
5Let them praise The Name of Lord Jehovah because he spoke and they existed; he commanded and they were created! 
6He established them for an eternity of eternities. He gave the law and it does not pass. 
7Praise Lord Jehovah from the Earth, dragons and all the depths! 
8Fire and hail stones and snow and ice, wind and hurricanes, Servants of his word! 
9The mountains and all these hills, trees of fruit and all cedars! 
10Animals and all cattle creeping things and flying things and birds! 
11Kings of the earth and all peoples, Princes and all Judges of the earth! 
12Boys and virgins, old men and young men, 
13Let them praise The Name of Lord Jehovah, because his Name alone is great; his glory is in the earth and in the Heavens! 
14He raises the trumpet of his people in praise to all his righteous ones, and to the children of Israel, a people that is near to him. (Aramaic Bible in Plain English) 
I saw that the snow that had covered the property was in fact a "Servant of His Word" Sent, just as we are, as a physical manifestation of His word. His voice. That which proceeds from His Heart.
In this instance He was speaking to me about His gift of righteousness. But for you, perhaps it will be something different. 
Either way, I love love Love it when He speaks to me or teaches me through creation. The creation around me in the earth and mine and Jordan's precious creation, little Hadassah. 
Do you remember beloveds, what it is to come fresh and innocent as a child into His redeeming Presence? 
To be wowed at the stark transformation of your interior world by the pure light of His wisdom and perspective? To turn from the foolishness of worldly thinking because you inclined your ear to His Breath.
Do you remember what it is to witness the resurrection power at work in the body, soul and spirit. Even in the hearing of testimonies there can be a multiplication by faith, a migration from death to life, from hopeless to joyful, sickness to health, from impoverished to prosperous, rejected to accepted. 
Just as both Hadassah and I had gazed out the window bleary eyed and were astonished…Do you remember what it is to step; bleary eyed from sin and condemnation to gaze into the marvelous vista of His invitation? 
From seeing the vast and seemingly lifeless winter landscape of the soul, now remarkably transfigured into a true winter wonderland. 
One which sparkles with joy and His glorious promise. The gift of Righteousness. For He was broken that we may be made whole! 
I realized that in our walks with God, we can so easily become tired and burdened dragging our baggage, like Jordan and I last night. Stumbling along heads down, just trying to get to our destination and failing to see the beauty of His promise the symbol of His righteousness all about us. 
There is a beautiful reality of life with YHWH through Yeshua. The highest level of relationship in an eternal covenant with the covenant keeping God.