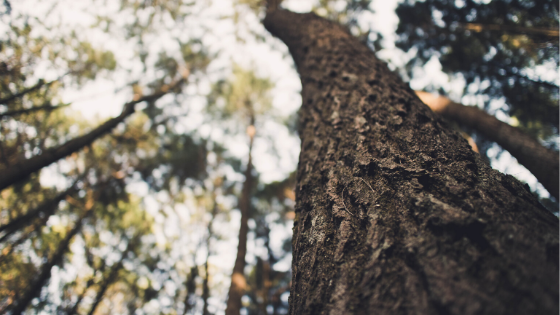 Walking our local Tennessee trail this chilly November morning.  I stood with my hand on a pine tree, thinking on the Lord's goodness. Feeling the life flowing through the trunk while inhaling the scent of wet leaves and pine needles. 
I leant on the tree and noticed how solid it stood. Even when I tried pushing on the trunk, it made no difference whatsoever to it's solemn stature and high reach.  
I gazed up into the canopy of branches and a gentle breeze blew, barely kissing my cheeks. Yet this was enough to cause the branches staggered along the trunk to gently sway. Waving its smiling mustaches of pine needles above me. 
Then I heard clearly 
"…Not by might nor by power, but by My Spirit, says the LORD of Hosts…(Zechariah 4:6 BSB) 
We may try and utilize every part of our physicality and wit to push and pull in order to get our own way or 'succeed.' But it is only by His Spirit. That which we can not harness, (just as the wind that I saw today), can have an effect on something way bigger than us. Indeed things that we can not move in our own strength. Things that may Seem to the natural eye to be immovable- are in fact malleable to His delicate yet Mighty Spirit. 
What are you, O great mountain? Before Zerubbabel you will become a plain. Then he will bring forth the capstone accompanied by shouts of 'Grace, grace to it!'" (Zechariah 4:7 BSB) 
We know that Zerubbabel, the governor of Judah had been sanctioned to rebuild the temple of YHVH. And so, we as believers, are the living temple of YHVH, saved and set apart by His Grace; born again by His Spirit. 
So surrender to His sweet Spirit today and become aware of the glorious reality of being One Spirit in Him. If you are born of the Spirit, then you are born from the beginning.  Which means that you can be carried on His breath of purpose to accomplish what He wishes. To be a comforting breeze to a weary soul, or indeed a hurricane to the enemies camp. 
"The wind blows where it wishes. You hear its sound, but you do not know where it comes from or where it is going. So it is with everyone born of the Spirit." (John 3:8 BSB) 
Soar on the wings of His Spirit today. Be unpredictable like the wind, go where He blows, go as He says to go and not where the wisdom or rationale of manmade maps of reason say to go. 
Be bold and courageous, the wind has nothing to fear, likewise in the Spirit we have no fear, no captivity just freedom and joy unspeakable. For our reward is with Him and through Him we share this joy and liberty with others. 
Be expectant and humble enough to hear Him speak in all circumstances; for He truly is speaking.  Even through a tree! 
"For since the creation of the world God's invisible qualities, His eternal power and divine nature, have been clearly seen, being understood from His workmanship, so that men are without excuse." (Romans 1:20) 
Shabbat Shalom! from the updrafts of His Mercy on this beautiful day.  ~ Milly