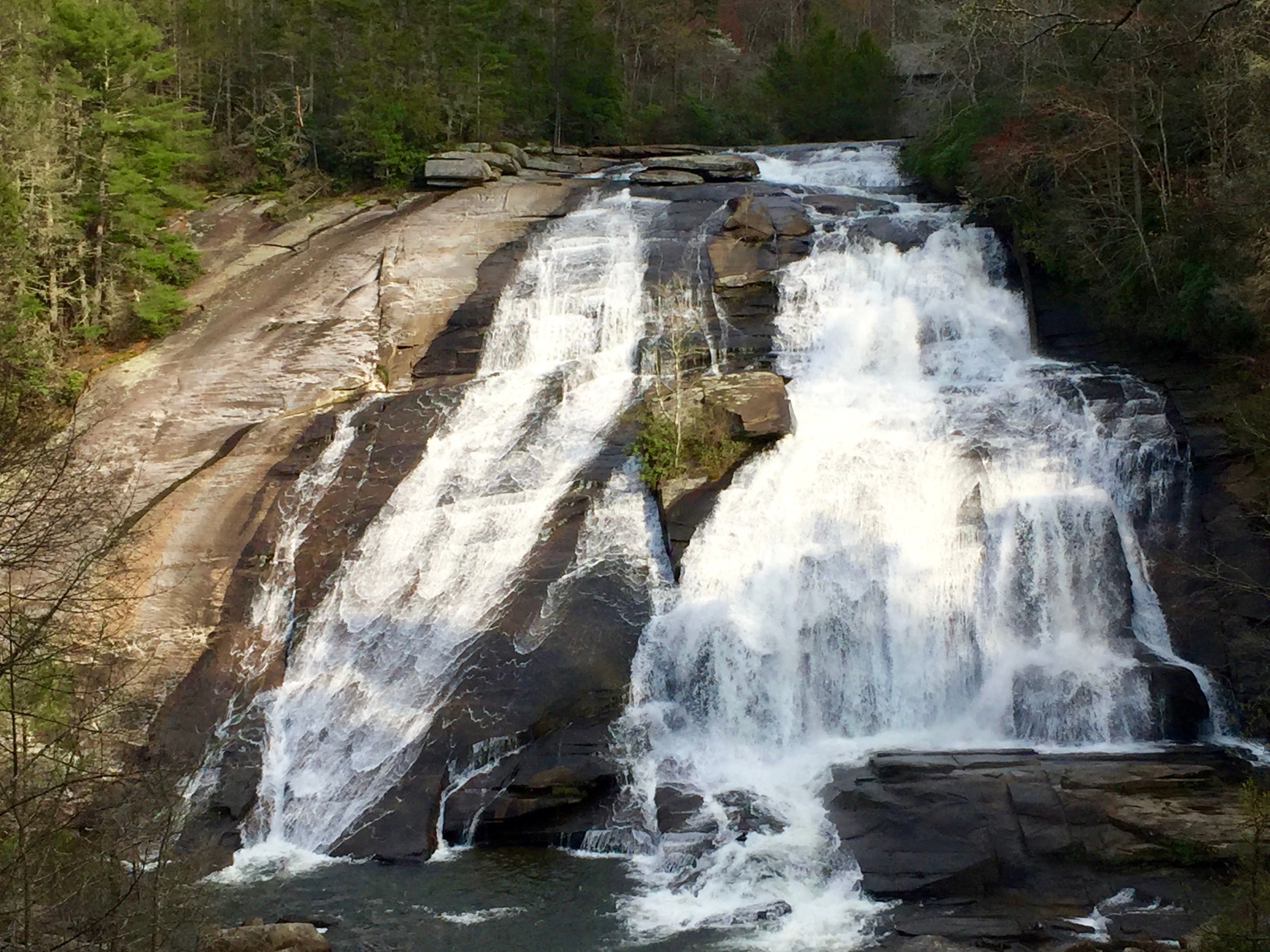 One of the things that I have been so thankful for while living in Western NC, has been the 250 waterfalls in our local area.  There are so many to choose from and each is uniquely impressive.  On this particular trip, we had decided to hike and revisit "High Falls" which is located in the Dupont State Park.  Our daughter Hadassah is now at the age where she can see and really appreciate the beauty of nature, especially when she is strapped to me, facing outwards in her harness.  As we turned the corner on the dusty trail, her chubby legs and arms started to flap like a clumsy bird and she let out a loud Wooooow!!!  She was really impressed at the hundred and fifty feet mountain of a waterfall. 
We traversed the boulders and bank lining the creek until we reached a safe distance from the base of the falls. We rested for a while on a huge boulder, our faces being cooled by the mist that was carried in the breeze. Hadassah was staring wide eyed at the sight yelling a series of baby babbles and pointing.  Jordan being the exploring pioneer that he is, teetered along a fallen tree trunk and climbed right out onto a rock shelf perhaps 10-15 feet from the falls.  I knew he had gone out there to pray.  So Dassah and I sat watching and praying. (Initially by praying that he didn't fall off the jolly rock shelf!)   
Seriously though, we had both been pretty burdened by the transition that we are currently in.  A weirdly familiar feeling of free fall, whereby we have taken the leap of faith, but have no idea where we might land and we are seeking Abba's counsel and trusting in Him as our Provider and Father more than ever. 
I watched Jordan with arms raised in a dramatic sillouette precariously standing in front of these monstrous cascades. So, I began to petition the Father in faith. The Spirit lead me to start decreeing scriptures of His Faithfulness.  Of Him supplying All of our needs according to HIS Riches in glory, I shouted of His Loving Kindness, (His Chesed חֶסֶד) that endures forever!  As my voice was absorbed into the cacophony of thundering waters I was aware of being simultaneously located before His Face and that the sweet mist of this waterfall was indeed carrying my cry into the very mist of God's glory that surrounds the Throne of Grace!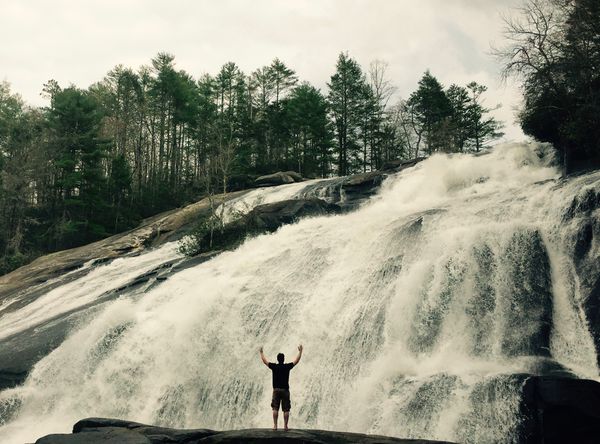 Jordan climbed back over to me, face beaming…."Honey you have GOT to go over there, it is unreal!'  Admittedly the dare devil in me did want to go over there, so I strapped Hadassah to Jordan making him promise to stay where I had been sitting on a boulder in the safe place.  I followed Jordan's route, teetering carefully on the fallen tree trunk and making my way out onto the rock shelf.  It was suprisingly wider than it had seemed and my feet were firm.  As I faced the thundering water, it did feel quite surreal.  As if I had been super imposed onto a CGI movie screen.  But the roaring waters were very real and I was aware of my own absolute fragility before this relentless force before me. "His Voice" was (very much) "upon the waters, the God of Glory thunders" Psalm 29:3 
The pure sound and intensity of the froth was so captivating, you could not focus on a single piece for more than a second because it was consumed in yet more froth and beauty as it poured down the rock face.  On and on it flowed. Breakers of His love. 
Interestingly as a comparison, the Lord reminded me of the wee waterfall that we have at the property where we have been living.  Our landlady put it in as a feature and when Air BnB guests come to stay at the cabins on the property she switches it on.  It is pretty, but I think that the ducks get the most enjoyment out of it on a sunny day.  So why did the Lord remind me of this? 
He said "My Chesed חֶסֶד, My Loving Kindness you can not turn on or switch it off.  It is continually pouring forth, in abundance. Just as you see in these mighty waters. You can not hinder or stop this flow, you can not even see where it begins, or where it ends.  It is a force of My goodness that is always pouring out, day and night. Just as My promises to you are sure" 
So friends, I pray that today you would see and experience a deeper revelation of Abba's Chesed today as it pours out on you and saturates you in abundance. That you may remember and see His favor and faithfulness manifest this Passover weekend.  That you would see the beauty of the substance of His Chesed manifest in Yeshua His Son who loves you and gave His life for you.  The absolute strength of this love that punished sin at the cross, yet know His tenderness in leading you out of the bonds of slavery. That you would experience freedom, fullness, be made whole and have life, life in abundance! Awakened into the purity and depths of His love.  
"Deep calls to deep in the roar of Your waterfalls; all Your breakers and waves have rolled over me. The LORD decrees His loving devotion by day; and at night His song is with me— a prayer to the God of my life". Psalm 42:7-8
Milly